Photo Restoration

All photo restorations are done by Tuttle Cameras so your family heirlooms will be safe. All photo restorations include a digital file of your old and new image to share with generations to come. And if you do not like the restoration, we will redo it until you do.
The possibilities are endless! If you can imagine it, we can do it. Not only can we repair your photos, we can make them better than ever. Whether it is combining images to make one family photo, or remove "unwanted guests" from your group picture, we can manipulate your photos to make them the way you want them to be. Did you have a bad hair day? Do you hate that ratty background? We can change it! We can even remove that tattoo. Just bring in your photo and leave the rest to us.

What is the AngelPics Project?
Under the auspices of the AngelPics Project, Tuttle Cameras donates its photo retouching resources to the parents and families of deceased newborns.
Photographs of stillborn infants and newborns who don't make it home from the hospital are usually very difficult to look at. Through this free service, our skilled digital artists work with a digital copy of your original, eliminating medical equipment, removing unsightly marks and even replacing the background if desired.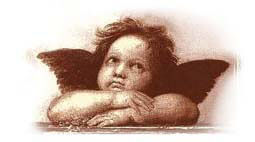 How do I Submit My Angel?
The easiest way to get your AngelPics photo is to visit our store and let us know you're in for an AngelPics photo. 
If you have any friends or relatives who could benefit from this free service, please pass the word along. Let's help our loved ones to save a photo and a cherished memory of their angel.